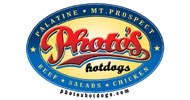 Palatine
301 N. Northwest Hwy
847-705-1111

FOOTLONG Hotdog
Only $2.00
$2.00 Photo`s Footlong Hotdogs!! We wanted to say thank you to all our Loyal E-Club Reward Members with a fantastic offer. For a limited time only, try one of our FOOTLONG Photo`s Hotdogs for $2 each.
Expires 03-25-2018
Not valid with other offers.
One coupon per customer. While suppies last.