Massage Envy
"The Feeling Every
Body Wants"
---

(847)367-1010

Hours of Operation

10:00 AM - 6:00 PM Sunday
8:00 AM - 10:00 PM Monday-Friday
8:00 AM - 6:00 PM Saturday
Massage Envy has a Great Massage for Every Body
Massage therapy relaxes muscles, easing and soothing your aches and pains. It rejuvenates-- restoring balance to our body and being, making us better for all the things life throws our way. Massage Envy believes every body deserves a great customized massage, so we`ve made relaxation convenient. We offer flexible appointment times to fit the busiest of schedules, hundreds of locations nationwide and professional Massage Therapists to customize the perfect massage designed to fit your life. Oh, and did we mention the great price? It`s what`s made us the leading provider of massage therapy in the U.S. And with so many options, a great massage is always within your reach. Just ask our
members
.
Sign Up and Receive
Monthly
promotions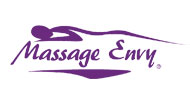 701 N. Milwaukee Ave

847-367-1010