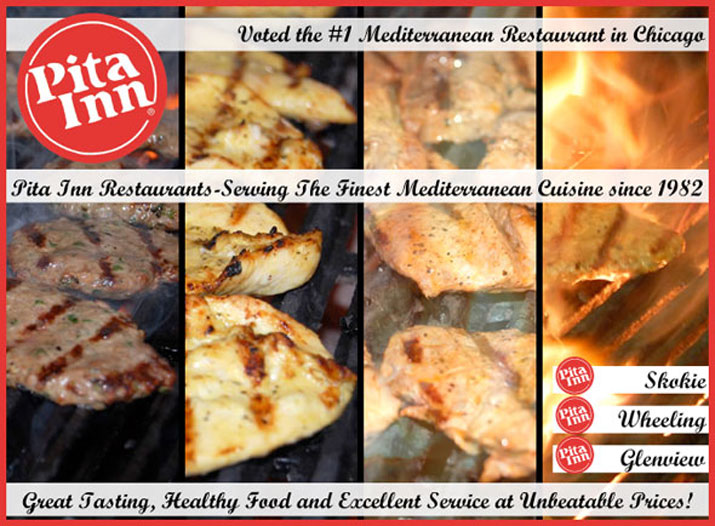 Pita Inn
"Great, Healthy Food and Excellent Service at Unbeatable Prices!"
---

Since we opened our doors in 1982, our goal of providing exceptional food and service at a great price has not changed. We take care in selecting only the finest quality ingredients to prepare our food. Our vast network of suppliers affords us to the ability to be picky. Our employees are trained to inspect every shipment that arrives for quality and freshness. They are instructed to refuse any shipment that does not meet our high standard of quality. In order to maintain a high standard of quality and consistency, the owner has personally trained every chef in each one of the restaurants. Walking into any Pita Inn establishment, whether it is one of our restaurants or the Market, our high esteem for quality service and cleanliness is clear.

With the doors to Pita Inn Skokie opening in 1982, we knew that if we focused our efforts on customer satisfaction and quality, success would surly follow. As the years past, The Pita Inn Skokie continued to grow, so large in fact, that it needed to expand. Maintaining our commitment to our customers, we stayed open as long as we could during our expansion project, without compromising the quality of our food or the safety of our loyal customers.
Today The Pita Inn Skokie is still by far our most popular restaurant. Skokie is also the home of The Pita Inn Market, and The Pita Inn Bakery.



With The Pita Inn Skokie`s popularity, and the fact that our customers were traveling far to reach us, The Pita Inn Wheeling opened in 1992. Being that we already had a winning formula, it did not take long for it to take off!
Wheeling, at the time of its opening, provided our customers with more seating and more parking! In addition, the restaurant recently underwent a major reconstruction project without closing a day.

The popularity of The Pita Inn Skokie and Wheeling proved so great that in September of 2003, The Pita Inn Glenview opened right between the two. Hoping to lessen the load of the other 2 locations, Glenview quickly put itself on the map, with success surpassing our expectations.
Glenview is our largest restaurant to date. With ample seating and parking, our customers can enjoy their meals in our dining room, or, during the summer months, outdoors overlooking the beautiful fountain and lavish landscape.

Let us cater your special event! We have catered for thousands of birthdays, office parties, graduations, and weddings over the past 25 years. Treat your guests the award winning cuisine of the #1 Mediterranean Restaurant* in the Chicago area. Call us anytime during business hours and we would be happy to help you with your event. View our Catering Menu
Gift Certificate
Special
FREE $20 Gift Certificate when you purchase $100 in Gift Certificates.
Expires 03-25-2018
Limit one coupon per person.
Not valid with any other offers.
We have the right to cancel this offer at any time.
$25.00 OFF
Catering
Receive $25 OFF any catering order over $150
Expires 03-25-2018
Limit one coupon per order and event.
Not valid with other discounts.
Sign Up and Receive
Free Stuffed
Grape Leaves