New York Slices
"Grab a Slice!"
---
New York Slices offers savory traditional items found in many of New York`s finest pizzerias. Our regular cheese pizza is a consistent favorite and you can add several different toppings to make your very own pie. If you are looking for something different our signature slices are not to be missed. We offer:
The Sicilian Slice- baked with a fluffy crust.
The Grandma Slice- made with smoked buffalo mozzarella cheese, hand crushed plum tomatoes, and roasted garlic.
The Pasta Slice- made with ziti on top of a regular cheese slice.
The Veggie Slice- made with peppers, mushrooms and onions.
Plan ahead for the Sicilian and the Grandma whole pizzas as both of these signature creations take more than two hours to prepare if you want a whole pie. Ask for your pizza to be made with our spicy sauce, a special secret blend of spices.
If pizza is not what you crave, we also offer delicious house specialties, all made with the same great tasting dough, including calzones, garlic knots, NY Sliders, chicken parmesan sandwich, a meatball sandwich, and much much more.
For those who desire something on the lighter side New York Slices has fresh salads and even cheeseless pizzas.
If you have a sweet tooth than we can compliment your craving. New York Slices offers Mariano`s Italian ices and a selection of homemade cookies, including both New York style black and white, made on cake, and Chicago style black and white, made on a sugar cookie.
While New Yorkers are falling in love with this style of pizza all over again, Chicagoans are experiencing true love at first bite.
Always trans-fat free and most importantly 100% nut-free ingredients.
There are no values available at this time.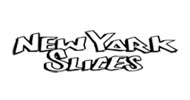 1843 Second Street

847-432-6979